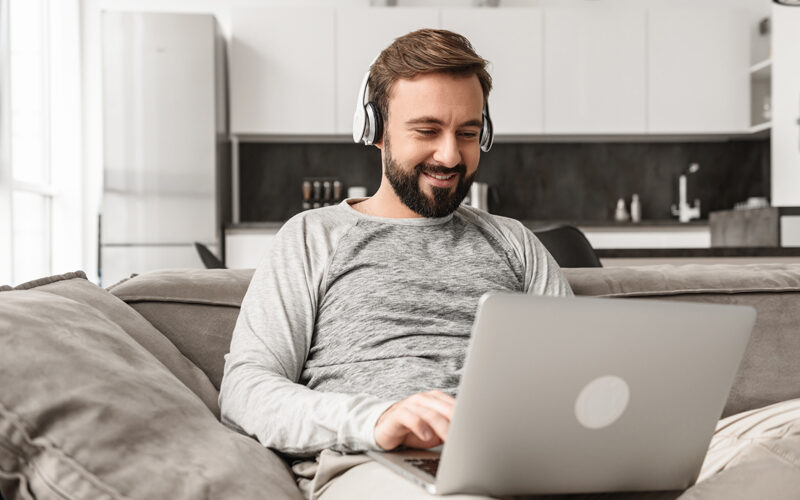 While the techniques have evolved over time, the format of traditional counseling has not changed significantly from what early psychotherapists developed in the 19th century: you meet your therapist in an office and talk through problems. The most significant modification was the shift from lying on a couch facing away from the therapist to sitting facing forward and directly interacting with her.
As internet-based communication platforms developed, therapists began seeing their clients online via video conferencing. Numerous studies have shown that with a solid internet connection (eliminating freezing video and choppy audio), online counseling (also known as distance counseling, tele-counseling, teletherapy, online counseling, and remote counseling) is at least as effective, if not more effective, than meeting in-person in the therapist's office. And now, seeing clients online is growing in popularity due to improved broadband and cellular internet access and the pervasiveness of mobile devices with high quality cameras built in.
Though my training years ago was in traditional face-to-face psychotherapy, as a former business consultant I was drawn to utilizing technical innovations in counseling and coaching techniques and formats, so it was a natural fit to focus my private practice on delivering counseling almost exclusively online.
Why Choose Online Counseling?
There are a number of benefits to online counseling as compared to traditional counseling.
Time savings: There's no traffic to navigate or windshield time required when seeing your therapist online. What could you do with that extra time added back into your day?

Availability: When a therapist works from her own home, she's more likely to offer flexible day/time options for appointments. Evening and weekend availability makes life easier for expats, busy parents and working professionals alike.

Privacy: There's no wondering if you'll run into your neighbor in the in the waiting room if you're enjoying the privacy of your own home or office. A HIPAA-compliant, encrypted video conferencing platform provides all the confidentiality you'll need to feel safe and secure.

Comfort: Who wouldn't love to change into their favorite attire and meet from the comfort of their own couch? Studies show that being physically comfortable will only enhance your counseling experience and improve results.

Convenience: There are many potential barriers to making positive changes in your life (like regularly seeing your therapist).  Online counseling means you can see a therapist whenever and wherever it is convenient for you.  You don't have to deal with traffic, cancel sessions because of travel or bad weather, or take time off from work to schedule a session during typical business hours.

Expertise: The internet also provides access to therapists outside your immediate area. This is particularly relevant for those with special therapeutic needs where the closest therapist with the right credentials might be hours away. 

Effective: If we're stressed out from sitting in traffic or hoping the babysitter actually shows up, we're not going to be in the right mindset for a therapy session.  Then, hoping you won't be recognized in the counselor's waiting room elevates stress levels even further.  With online counseling from the privacy of your own comfortable space, you'll be more relaxed and in the right frame of mind to get the most out of your session.
Online Counseling or Coaching is Especially Well-Suited For:
Busy / Traveling Professionals: When traveling for business, it's hard enough to get your laundry done on the weekends let alone see a counselor.  Online counseling lets you fit a session into your busy schedule in the evening from the comfort of your hotel room.  And if one spouse is home and the other on the road, the two of you can easily meet with your couple's counselor via video.
Rural Residents: People living in rural communities either lack access to counselors or personally know the only counselor in town.  As reliable internet access becomes more universal, it's easier to reach more people who need help.
Expats Living Abroad: Adjusting to living in or traveling through a foreign country poses unique challenges.  Finding a local counselor who "gets you" may be unrealistic.  Online counseling enables you to utilize the right professional throughout your time overseas.
Parents: Eliminating the expense and logistics of a babysitter reduces stress even before the counseling session begins.  I am happy to offer parents evening appointments so they can connect with me online after the kiddos have been tucked in.
What About Privacy and Online Security?
Privacy and security should be of the utmost importance to any conscientious counselor, but you must keep in mind that only you can control your own personal space.
Privacy During Your Session
With online counseling you must control the environment and physical privacy from which you conduct your sessions.  I recommend that people find a nice quiet room with good sound insulation and no distractions, but not everyone has easy access to this type of space and may prefer meeting face-to-face in a counselor's office.  Some of my clients see me from their office at work during a break or after working hours or even in a friend's home or private study room at the local library.
Online Security
It is important to safeguard the content of a counseling session, whether in-person or over the internet.  Depending upon the location of a traditional therapist's office, clients may see each other walking in and out of the building, sitting in the public waiting room, and heard through the thin walls.  For these reasons, with a secure video call platform, online counseling can be even more private than face-to-face sessions. 
Secure, encrypted, HIPAA-compliant video conferencing platforms such as Zoom and VSee have made it possible to both increase the effectiveness and decrease the barriers to accessing professional help.  For anyone who has justified not getting the counseling or coaching assistance they need because they won't carve out the time or that it is inconvenient to drive to a therapist's office or they can't afford a babysitter, those excuses are a thing of the past.  Life is too short not to be happy and to get the help you need!